Inter Lubric China 2019
20th China International Lubricants and Technology Exhibition
21st -23rd August, 2019
Hall 1/2, Poly World Trade Center Expo (PWTC Expo) | Guangzhou
The Expo is located in the heart of the Pazhou Convention and Exhibition Circle in Haizhu District, Guangzhou. Metro Line 8 has direct access to the entrance of the exhibition hall, and its "Pazhou Station" is seamlessly connected to the Expo. The road transportation network is fast and convenient. It is adjacent to the Ring Expressway in the east, the South China Expressway in the west, Newport East Road in the north and Fengpu Middle Road in the south, and many bus lines intersect here. With all these transport infrastructures, passengers can quickly reach Guangzhou Railway Station, Guangzhou East Railway Station, Guangzhou South Railway Station, Tianhe Coach Terminal Station and Baiyun International Airport.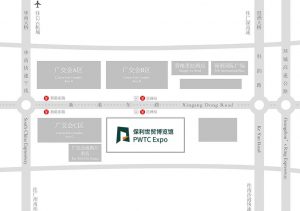 Transportation
   Guangzhou Metro
Exit C, Pazhou Station, Line 8 
(Guangzhou Metro Map)

   Guangzhou Bus Station
Pazhou Station (Line B7, Line B7 Express, University Town Line 3, Line 229, Line 262, Line 304, Line 461 and Line 564)
   Guangzhou Taxi
starting fare of taxi: 12 Yuan and the starting distance is 2.5km, subsequent rate will be 2.6 Yuan/km.
If you are pre-registration visitor:
1.Fast pass registration during event period.
2.You can get enewsletter about the industry every month.
Please note:
1. Confirmation letter including the pre-registration code will be sent to you by email.
2. Please take your confirmation letter or the pre-registration code with business card for fast pass access.
INTER LUBRIC CHINA 2019 can offer you favorable prices for some recommended hotels. You can use our 'Hotel Online Booking' service to select and book your room with these hotels.
Delivering the latest industry news and show information by show preview once a month.
This guide contains the exhibitor list, fringe programs and other service information.
It can help you to make a schedule about INTER LUBRIC CHINA 2018!